Tuesday Tooling: PROGRAM-O-TRON
Send in the clones!
First things first!
Proto-Pic supplied this board for my review...back in May 2018. It fell behind my desk and a team of archaeologists found the board last weekend. As the board was provided free of charge I need to be clear, Proto-Pic did not ask to see or influence the review in any way. No money changed hands either. They just offered me the kit for review. Sorry its a bit late!
So what is it?
PROGRAM-O-TRON is a tool to program certain ATMega chips without the need for a computer.
Sorry what?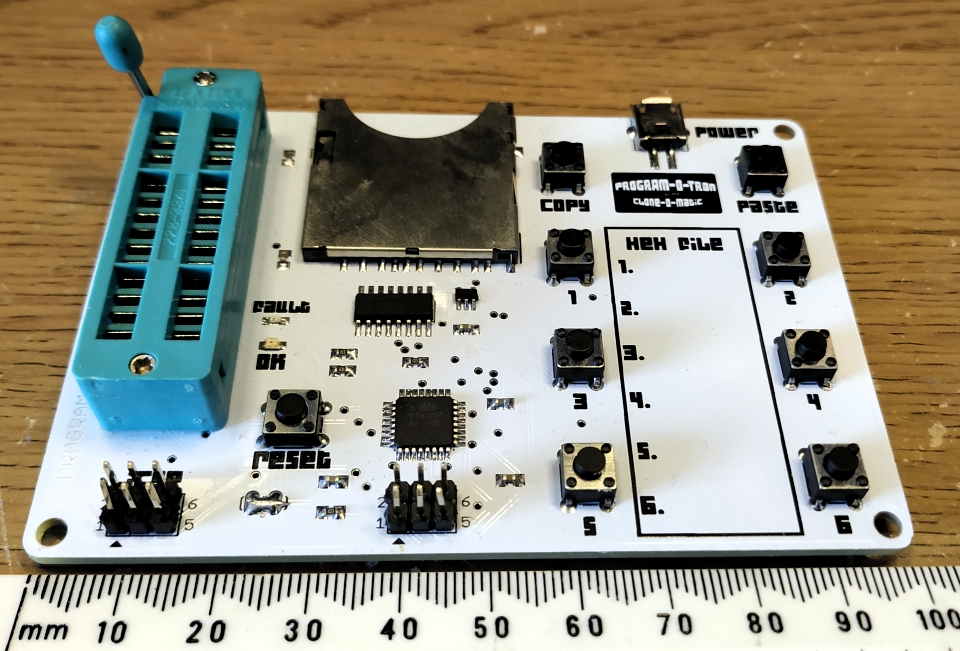 Ok the PROGRAM-O-TRON can...
Copy a chip inserted into the holder, and then paste the contents to another compatible chip. Just by using the copy and paste buttons!
Write a hex or Fuse file from SD card to the chip. You can have up to six files on a card, each file numbered to correspond to the button. For example button 1 has a file on the SD card of 1.hex, button 2 has a Fuse file 2.fus.
Using the ICSP header we can program a chip already soldered into a project, just connect the ICSP pins of PROGRAM-O-TRON to the ICSP header of your board (Arduino have these)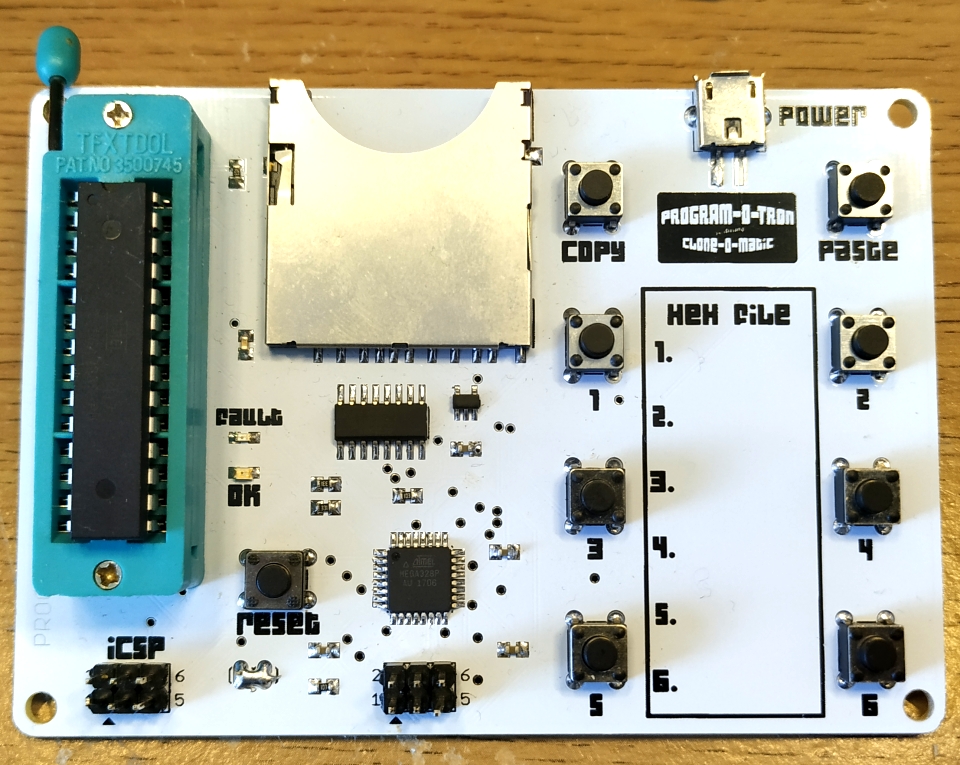 The PROGRAM-O-TRON has a really simple layout, which lends itself to the task at hand.
So what chips does it work with?
Via the ZIF socket
ATtiny25
ATtiny45
ATtiny85
ATtiny13A
ATmega168PA
ATmega168V
ATmega328P
ATmega328PB
ATmega328
ATmega48PA
ATmega88PA
Via the ICSP connector
ATtiny24
ATtiny44
ATtiny84
ATtiny25
ATtiny45
ATtiny85
ATmega48PA
ATmega168PA
ATmega168V
ATmega328P
ATmega328PB
ATmega328
ATmega164P
ATmega324P
ATmega644P
ATmega640
ATmega1280
ATmega1281
ATmega2560
ATmega2561
At90USB82
At90USB162
ATmega8U2
ATmega16U2
ATmega32U2
ATmega16U4
ATmega32U4
ATmega1284P
ATmega1284
ATtiny2313A
ATtiny4313
ATtiny13A
ATmega8A
ATmega64rfr2
ATmega128rfr2
ATmega256rfr2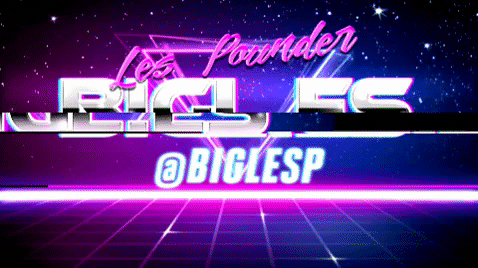 Hi reader!
I never put my blog posts behind paywall or pop ups because quite frankly that is annoying and prevents anyone from accessing the content. I will always keep my blog content free of charge. But I do ask that if you are able and willing, that you buy me a "coffee" as it helps me to pay for hosting this blog, and to buy stuff to hack from Poundshops / Dollar Stores / Aliexpress which are used in free projects and reviews on this blog. It is You dear reader who make this possible, and I am immensely grateful for your support.
Thanks!
So how do I use PROGRAM-O-TRON?
Example 1: Copying an ATMEGA328PU chip
Insert the ATMEGA328PU into the socket with pin 1 at the top left, nearest the lever.
Close the lever.
Power up the PROGRAM-O-TRON and wait until the LEDs settle.
Press COPY to dump the contents to the PROGRAM-O-TRON.
When done, remove the ATMEGA328PU, and place the ATMEGA328PU which you wish to flash to!
Close the lever.
Press Paste
Wait for the LEDs to settle.
Remove the freshly flashed ATMEGA328PU and put it into your project!
Example 2: Flashing a hex file.
Create an Intel hex file (don't worry I'll be doing this later!) and rename the file to 1.hex.
Save 1.hex to an SD card formatted as FAT32 (standard Windows format)
Insert the SD card into PROGRAM-O-TRON.
Insert the target chip, for example an ATMEGA328PU.
Power up PROGRAM-O-TRON.
Press button 1 to flash 1.hex to the ATMEGA328PU.
Wait for the LEDs to settle.
Remove the ATMEGA328PU and insert into your project.
How can I flash an Arduino sketch to many ATMEGA328PU?
Here is a use case.
I have written a cool Arduino sketch that I want to copy to lots of ATMEGA328PU chips which will be in a breadboard. I could plug in each ATMEGA328PU into an Arduino Uno and flash each one. Or I could compile the sketch in the Arduino IDE. Copy the hex file to the SD card and use PROGRAM-O-TRON to mass flash the chips.
So how can I do that?
First we need to find out where the Arduino IDE saves a hex file to when compiling a sketch.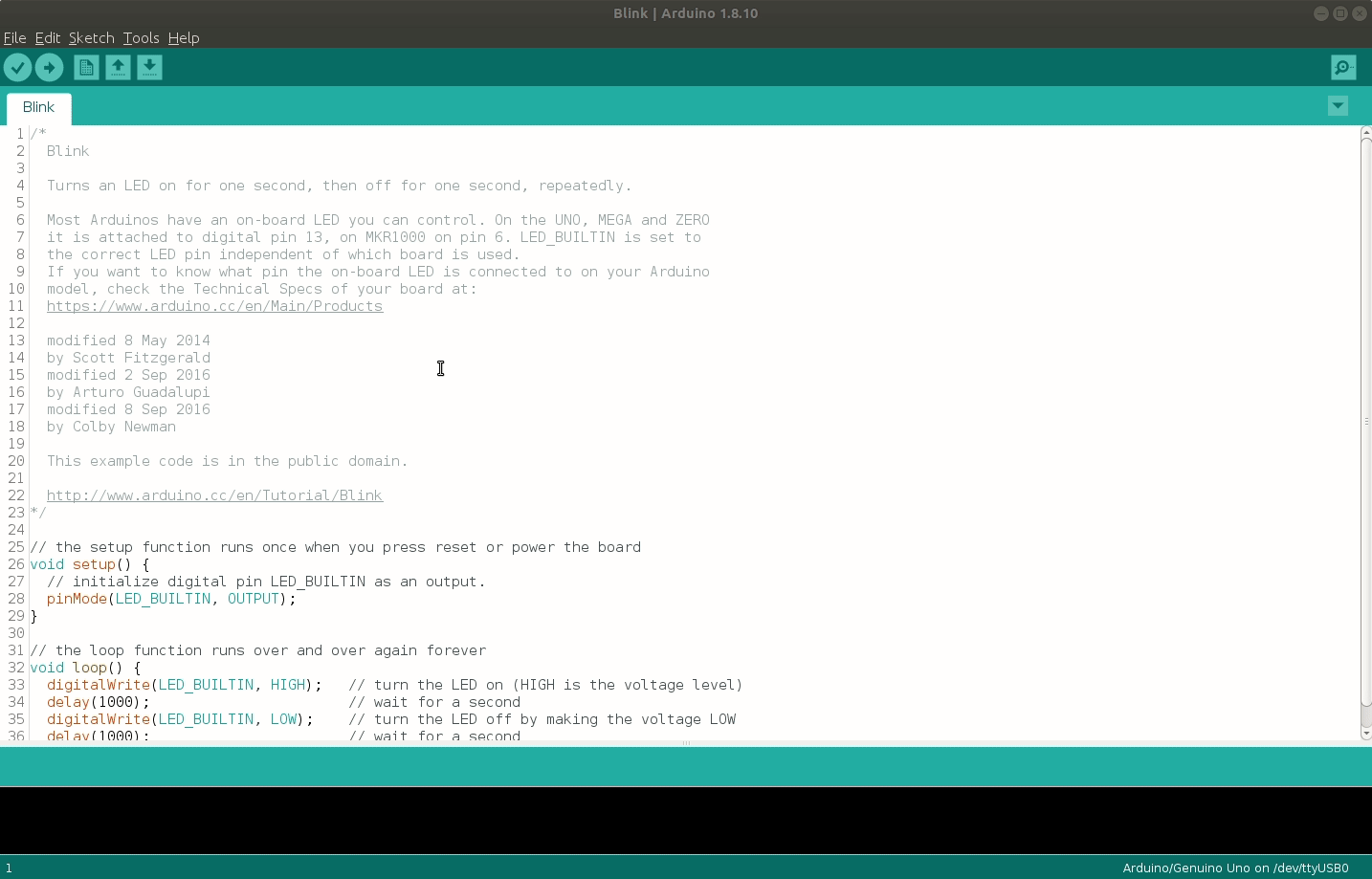 Open the Arduino IDE, and click on File >> Preferences.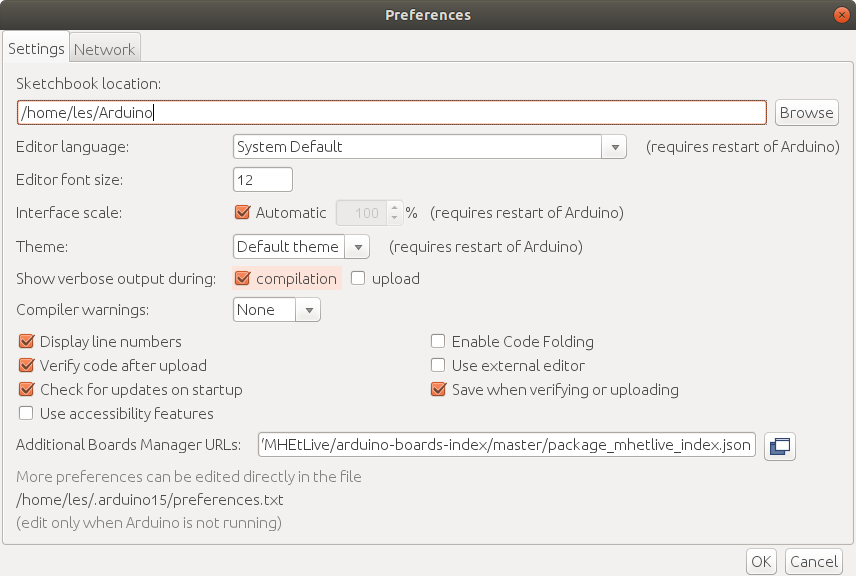 In the new window look for Show verbose output during



and click on compilation.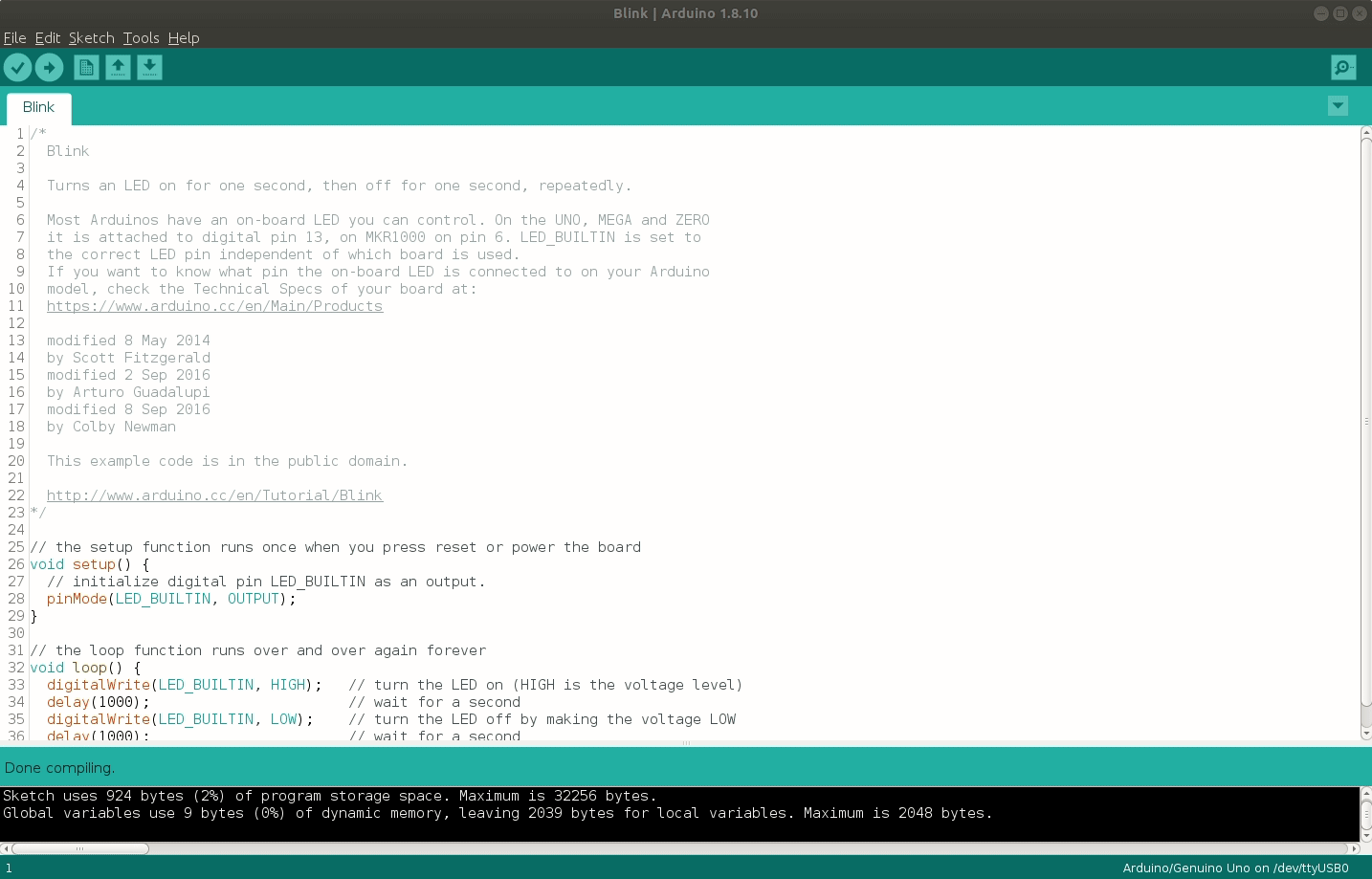 Now open the Blink example sketch. Then go to Tools >> Board and ensure that Genuino / Arduino Uno is selected.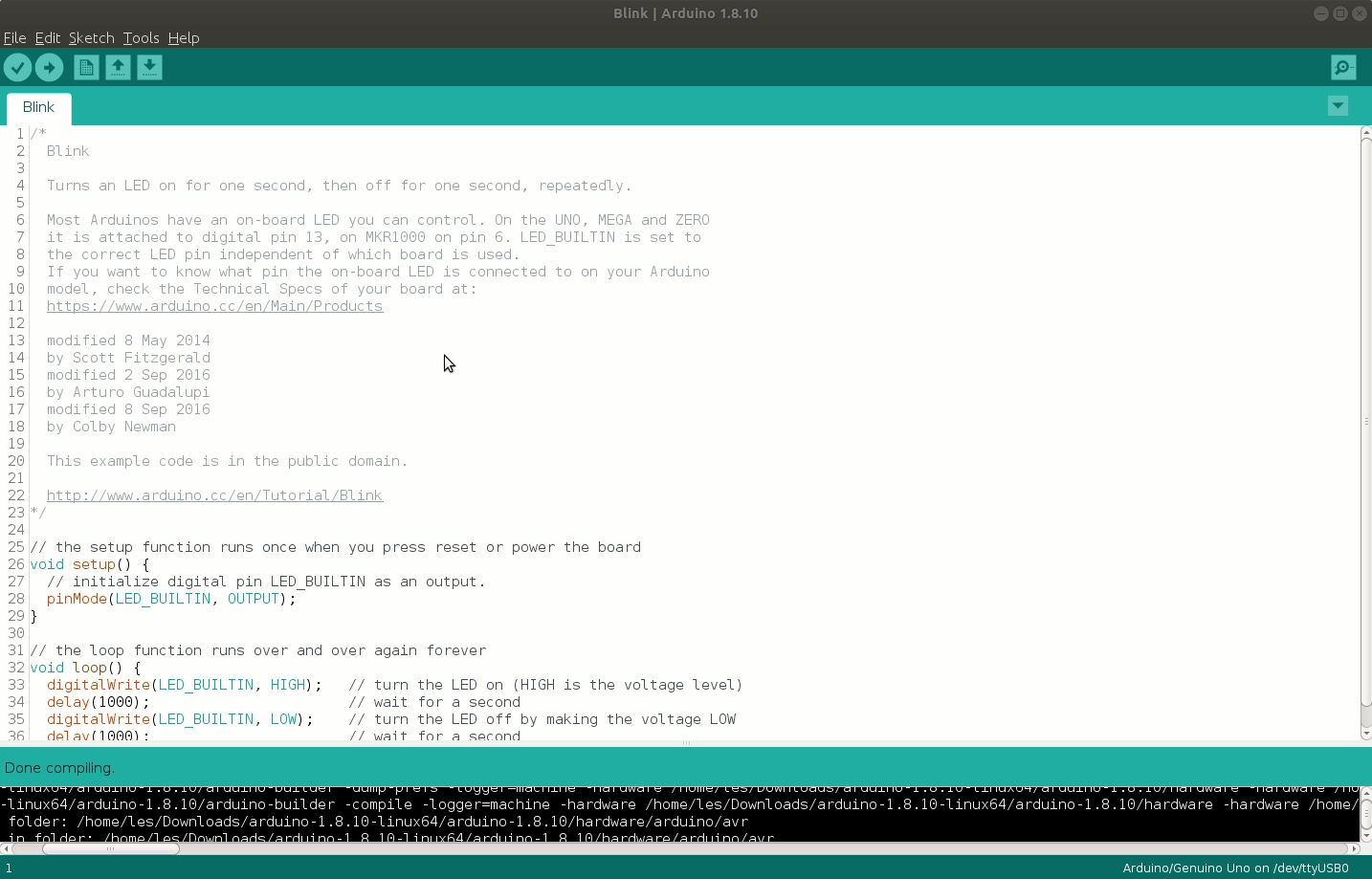 Click on the Verify icon to compile and check the code. After a few seconds the console output at the bottom of the Arduino IDE will show a lot of text. We can poke around in here and learn where the hex file is. In my case it is saved in /tmp/arduino_build_271256/ as a temporary file.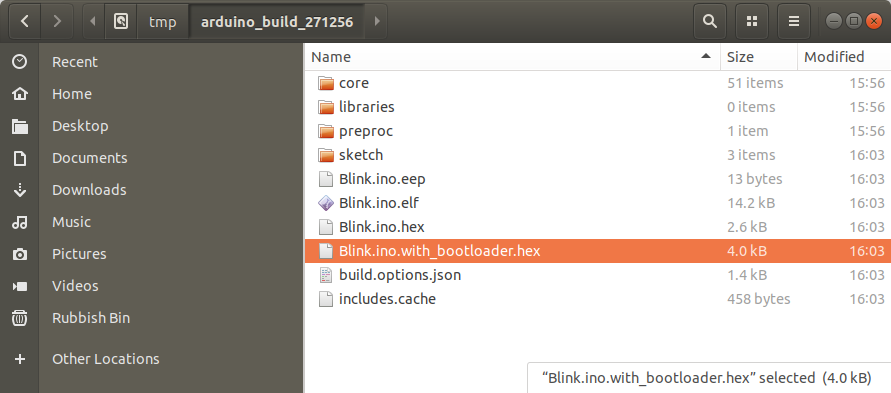 Sure enough inside that directory are a number of hex files.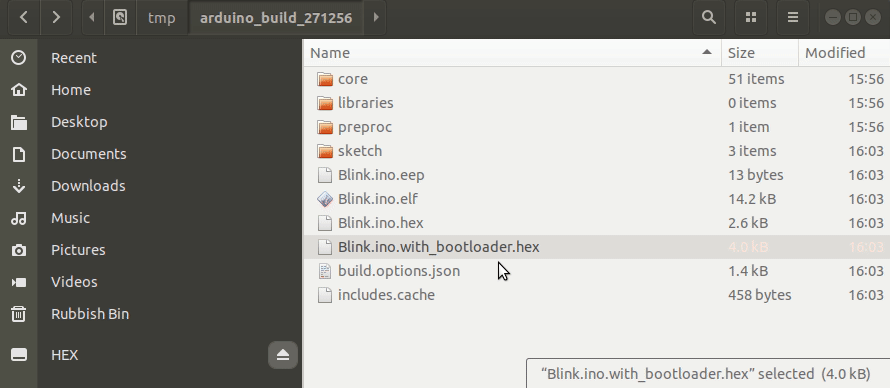 In particular I want the file Blink.ino.with_bootloader.hex which I copy to my SD card and rename to 1.hex.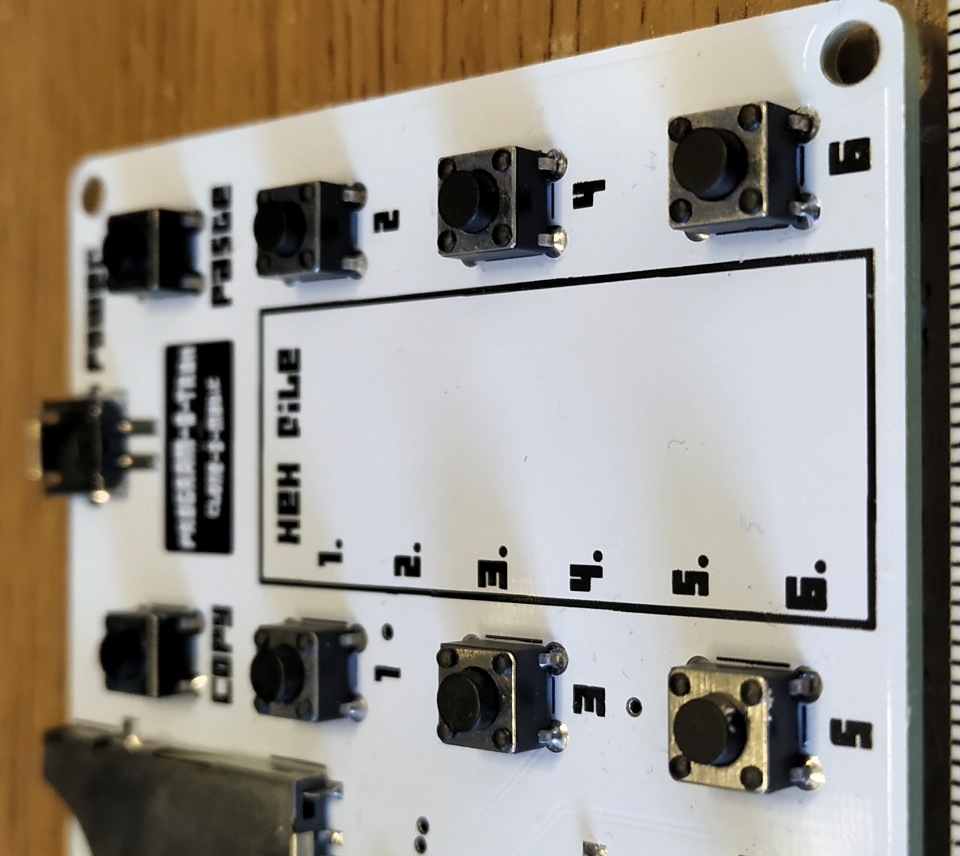 I then put the SD card into PROGRAM-O-TRON, and insert the ATMEGA328PU. I power up the PROGRAM-O-TRON and press Button 1 to flash the hex file to the chip.
I then pop the chip into my Arduino to test, and after a few moments I see a blinking LED.
So who is this aimed at?
PROGRAM-O-TRON is aimed squarely at people who need to bulk flash chips. So the makers who are selling kits online.
So where can I get one, and how much.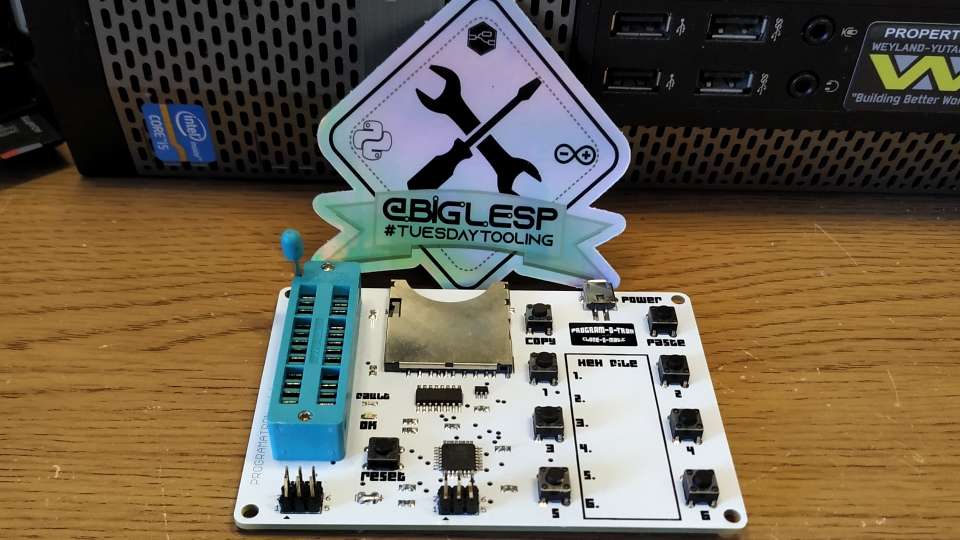 PROGRAM-O-TRON is available from Proto-Pic and it retails for £53.00 inc VAT. Yes this is a big price for such a board, but if you are bulk flashing boards then this piece of kit will save you a lot of time.
Happy Hacking