Tuesday Tooling: MAKER-DRIVE!
Building a robot? Something that moves? Then you may be interested in this!
So what is it?

MAKER-DRIVE is not an enemy from MAD MAX: Fury Road, rather it is a simple motor control board, seriously it is so simple!
The board has been designed with the beginner in mind, and it is compatible with the vast majority of single board computers (SBC) and microcontrollers.
So what are the technical details?
Dimensions - 43.2mm x 30.5mm, M3 screw holes.
H Bridge Controller MX1508
Power Input - 2.5 - 9.5V.
Max motor current - Continuous 1A, Peak (< 5 seconds) 1.5A.
2 x DC motor connections.
PWM motor control.
Can be used with 1 x stepper motor.
DC 5V output - 200mA max.
Input pins work from 1.8V to 5V logic.
Buck / Boost regulator. Power your robot and motors from a single power source (max 5V @200mA for micro controller / SBC)

Hi reader!
I never put my blog posts behind paywall or pop ups because quite frankly that is annoying and prevents anyone from accessing the content. I will always keep my blog content free of charge. But I do ask that if you are able and willing, that you buy me a "coffee" as it helps me to pay for hosting this blog, and to buy stuff to hack from Poundshops / Dollar Stores / Aliexpress which are used in free projects and reviews on this blog. It is You dear reader who make this possible, and I am immensely grateful for your support.
Thanks!
So tell me more!
This neat little board has two screw terminal outputs for DC motors and corresponding inputs on the other side of the board.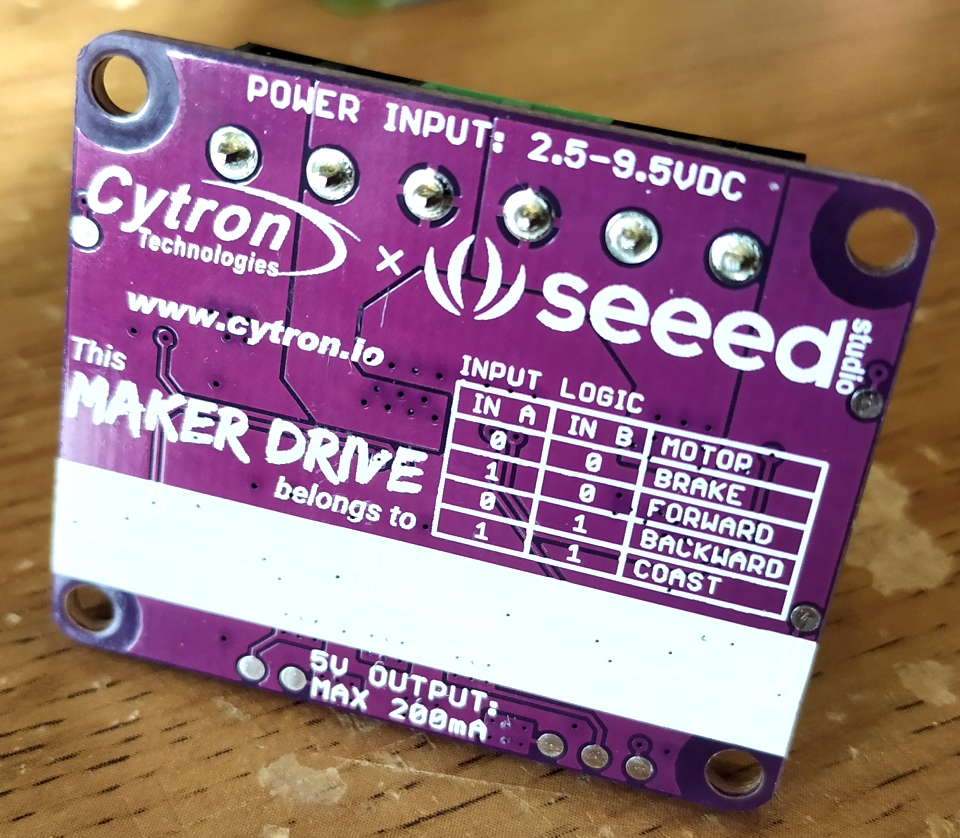 At each corner of the board there is a screw hole, this is M3 sized and used to mount the board in a chassis.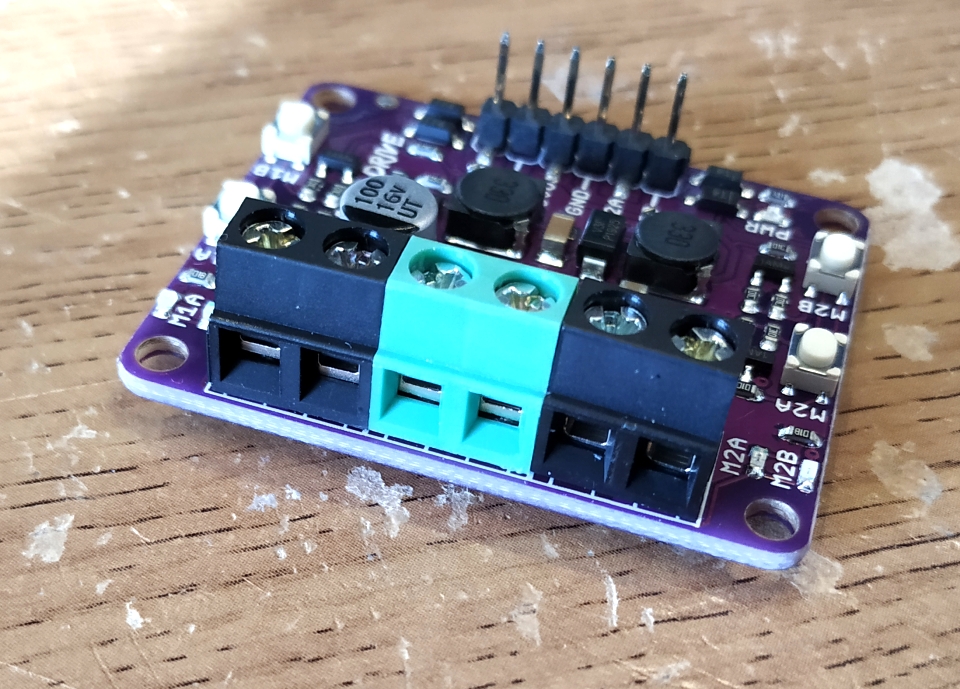 Power input is provided by a central screw terminal which provides power to the motors, and a single 5V 200mA output. Plenty to run an Arduino, and just enough to power a Pi Zero W, if you are careful!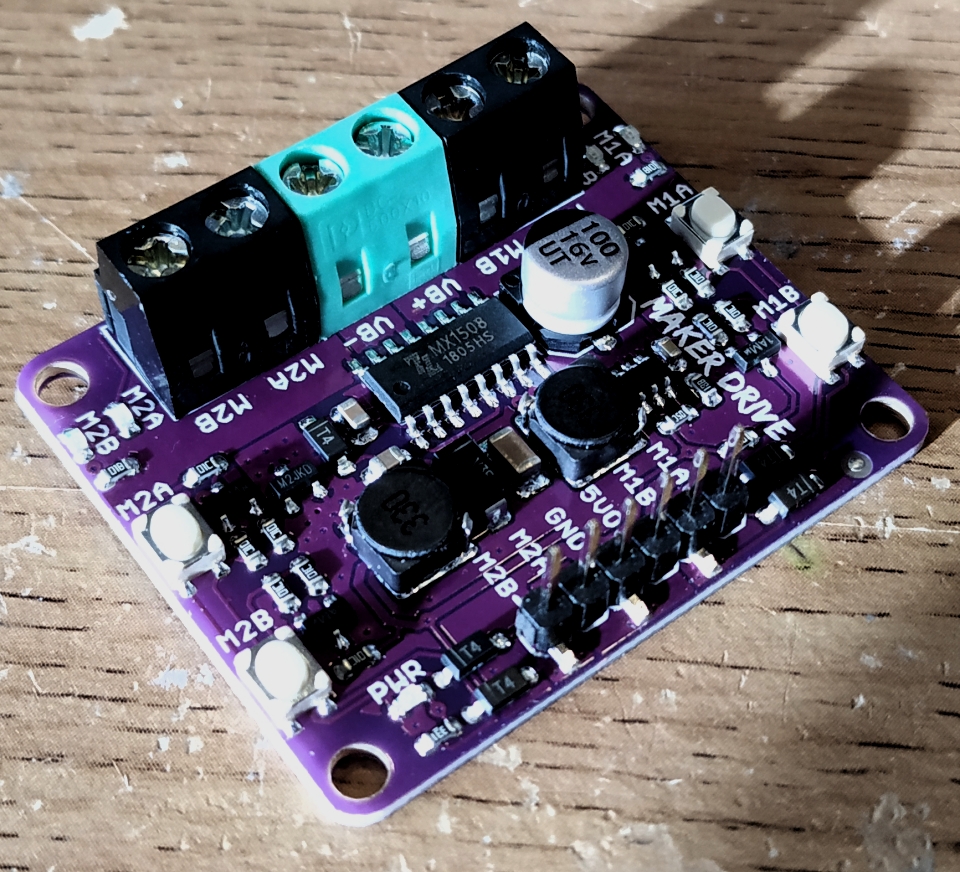 At the edge of the board are four buttons, M1A, M1B, M2A and M2B which correspond to the motor output connections. These buttons are test buttons! Yes we can test that our motor is working and wired up correctly before we connect it to a board.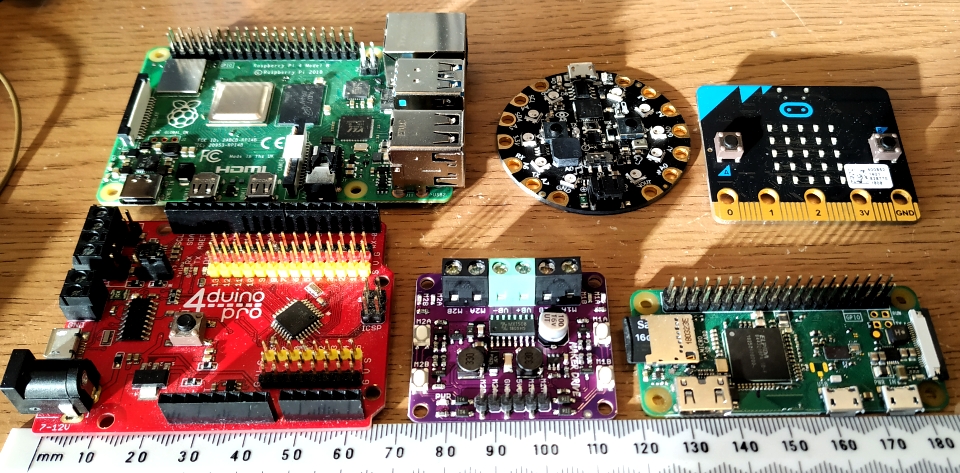 I tested the MAKER-DRIVE with three common boards. The Arduino Uno (I used the 4tronix 4duino Pro, as it is my go to Arduino), a micro:bit and a Raspberry Pi 4. All of the boards were powered externally for the test.
I'm rather impressed with this Maker Drive from @ThePiHut
Currently powering the motor board @4tronix_uk 4duino Pro from 2x AAA batteries!
Full review tomorrow! pic.twitter.com/M876slqPyr

— biglesp (@biglesp) April 13, 2020
I managed to control a motor in less than 5 minutes for each board, the MAKER-DRIVE is super easy to connect up.
So how much?

I purchased this board from The Pi Hut for £3!
At £3 this is a great price for a truly beginner friendly board. So if you are looking to make your first robot or motorised project then this is the board for you.
Happy Hacking!